Introduction
This is a write up of how I swapped a 93 JDM 3vz-fe into my 91 NA MR2. I see a lot of people ask lots of basic questions so I just wanted to compile all the information I researched and learned from doing my swap. About a year ago I started working on cars when I bought my MR2, I started doing suspension work and now I just finished my first motor swap. I would say the swap is very easy, the only difficult part is doing the wiring. I ended up paying Phoenix Tuning to make me a complete plug and play wiring harness which is the best advice I can give anyone doing a V6 swap. The only other custom parts you need are a passenger side motor mount which can be bought pre-fabricated.
What to expect from the swap
The 3vz-fe is rated at 185/187 hp and torque, however if you using the S-54 (NA) MR2 tranny then you will have lots of torque because of the shorter gearing. The 3vz-fe M/T ecu has a 6600 redline and 7200 fuel cut. In the U.S. the 3vz-fe only came in the Camry and Lexus ES300 in 92-93. 94+ is the 1mz-fe. However, in the rest of the world, the 3vz-fe came in camrys/es300s from 92-97. The 94+ 3vz-fe is rated at 200/205 which you can reach by doing simple and free modifications which I will discuss later. In terms of driving experience, the motor is a blast, it pulls hard in any gear at any rpm. It is faster than a stock mr2 turbo, with more power all over the rpm range. A stock 3vz-fe with a stock exhaust/cone filter will dyno at around 170 whp.
Here is a link to a collection of V6 dynos ranging from stock, to supercharged+nitrous
http://www.mr2.com/forums/mk-2-v6/Toyota-MR2-8684-v6-dyno-collection.html
How much does a V6 swap cost?
Here is my cost list, I paid extra to have the swap be completely plug and play, I also got a stage I clutch when a stock mr2 turbo clutch would have worked just as well. The swap be done for as little as 1,500 but I ended up paying a little under 2,000.
Engine: 550
ECU: 50
Tranny: Re-used S-54 tranny
Clutch: 300
4v6 Motor Mount: 150
Ignitor: 15
ACIS Canister: 5
Flywheel: 75
Maintenance items: 400
Tach board: 10
V6 engine wiring harness: 30
Wiring Harness Conversion: 350
AFM: 20
M/T flywheel/pressure plate bolts: 15
Total: 1950, expect to spend around 2k with coolant, hoses, and other misc stuff. If you can weld the passenger side mount, and do the wiring yourself, u save $500.
Weight/Balance
The 3vz-fe is heaviest V6 motor option, weighing in at 469 lbs. Hot Chili weighed his mr2 before and after his swap (he had a 3s-ge to 3vz-fe) and he gained 67 lbs and his front rear balance changed by .5%. A 3vz-fe with S-54 will weigh less than a turbo car because of the S-54 weighing about 40 lbs less than the E series turbo tranny. For comparison the 1mz-fe weighs 401 lbs and 2gr weighs 369 lbs, a 3s-gte without a turbo/intercooler weighs 421 lbs. I have not noticed the extra weight, because I lightened the car while doing my swap by deleting all my a/c components which saved about 40 lbs, so I only gained about 27 lbs which to me is barely noticeable. I only weighed my car after the swap and it came in at 2662 lbs, which is with no ac,ps,cc,abs, 17" wheels, t-tops on, 1/2 a tank of fuel. Most turbos mr2s weigh 2800+
Here is a good comparison of someone who had a gen3 3s-ge and swapped in a 3vz-fe, it lists alot of good data.
http://www.mr2.com/forums/mk-2-v6/Toyota-MR2-23311-my-testresults-3s-ge-vs-3vz-fe-videos.html
Actually doing the swap: Parts List Engine
I chose the 3vz-fe because of its low down torque and low cost, and it is the simplest of all the v6s to swap in. I chose to buy a JDM 3vz-fe from tigerjapanese.com because the jdm 3vz-fe motors usually have lower miles, they don't have egr which can clog up the intake manifold, and I was too lazy to go pull a motor from the junkyard. Also, jdm motors do not have a cold start injector, but I have no trouble starting in 30-40 degree weather. It doesn't matter whether the engine is from a lexus or toyota or whether the donor car is manual or automatic.
Here is the Toyota spec sheet for the 3vz-fe and 1mz-fe
ECU
I bought an M/T ecu for a 93 3vz-fe off of car-part.com for 50 shipped. Car-part.com will be your best friend while doing the V6 swap and every single part you need can be bought off of it. Just call up the junkyard and they will ship the part to you. I used my 5s-fe ecu brackets to hold my 3vz-fe ecu in place in the trunk.
Tranny
I re-used my S-54 tranny because of the high cost of buying a turbo tranny, axles, shift cables, and hubs. The S-54 tranny/axles can hold the power fine, but the only downside of the S-54 is that the 5th gearing is very short. Similar to a 5s mr2, the S-54 will cause high revs (3.5k) while cruising on the highway at 75-80 mph. However, the V6 will not drone like the 5s-fe does, so in that aspect it is much better. I would also recommend trying to buy a 93+ S-54 because those have better 1-2 gear synchros and are usually pretty cheap.
Clutch
There are lots of questions about what clutch to use so here is the setup you need to remember for a 3vz-fe using a S-54:
  V6 flywheel ->V6 or 3s-gte clutch disc with custom 20 spline (or 5s clutch disc) -> V6 or 3s-gte pressure plate

AndyA: As a rule of thumb, the flywheel and pressure plate follow the type of engine (V6 is same as 3s-gte in this regard) and the clutch disc follows the type of transmission.
I called Southbend clutches and explained to them what I was doing, saying I needed a custom MR2 turbo clutch with a 21 spline. They knew exactly what I needed because they have had prior experience doing clutches for V6 mr2s. A stock turbo clutch disc has 21 splines on the clutch disc and will not fit a S-54, it needs to have 20 splines to fit to the NA Transmission (S-54). ACT will also make a custom clutch for you.
AndyA: You can use a stock 5s clutch disc with a V6 flywheel and 3s/V6 pressure plate on a S54. That is what I am running and 2k miles later is still good.
The difference is that the 5s clutch disc will not clamp as big of an area as the 3s clutch disc, so I would recommend just buying a 3s clutch kit and ask for the disc to make with a custom 20 spline.
You can use a 1mz-fe or 3vz-fe flywheel as well, I bought an oem 1mz-fe flywheel from parts-america.net (you can also buy one from autozone) for 75$. However, myself and another board member have received the wrong flywheel so make sure you get the right one. The only way to tell if yours is the right one is to put the flywheel on the tranny and put the pressure plate/clutch disc on. If you have no problems they you got the right flywheel. If the pressure plate doesn't fit then you probably got the wrong flywheel. You can also order a lightweight 1mz-fe flywheel from Fidanza for about $300, the part # is 130881 on Fidanza's site.
Finally, don't forget to buy M/T V6 flywheel/pressure plate bolts because the automatic bolts are not long enough. Don't forget locktite and to torque them to the correct specs.
90105-10138 - $1.01 - Bolt, flywheel set (x8 = $8.08) for the 3s/V6
90119-08079 - $0.41 - Bolt, pressure plate (x6 = $2.58) for the 3s/V6
One last tip, if your clutch pedal is really stiff and difficult to push down because you went with a heavy duty aftermarket clutch setup, you can swap in the turbo clutch pedal which has 2 helper springs when you push down the clutch pedal. Personally I think my Southbend clutch stage 1 is fine without the helper springs (Thanks JimKing for this tip!)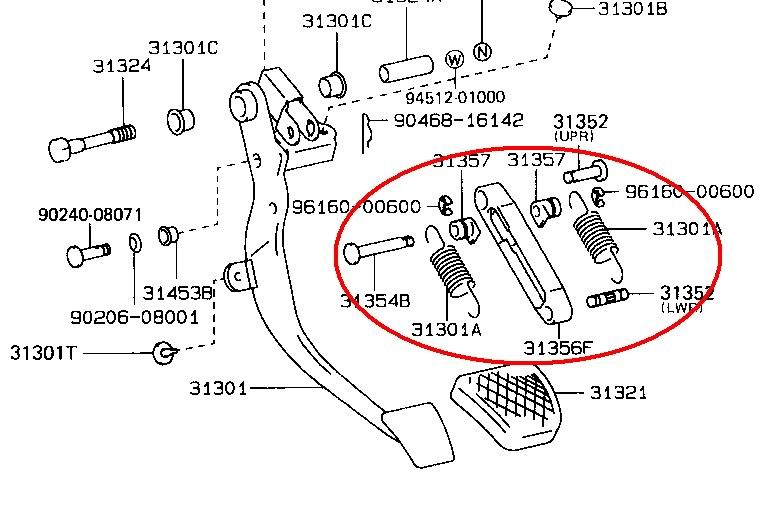 Motor Mount
You need to make a custom passenger side motor mount. 4v6 on twobrutal.co.uk sells a pre-fabricated passenger side motor mount which fits 100% and is very good quality. Here is a pic from Jinja's mr2 of the 4v6 motor mount fitted which is the exact same mount that I used:
Wiring Harness
There is no difference in engine harness between manual and automatic cars. I used an automatic engine harness which I pulled from my local junkyard. Also, make sure to pull the 4th ECU plug in addition to the engine harness. You don't need the camry body harness, only your mr2 body harness+v6 engine harness+V6 4th ecu plug.
Here is the wiring diagram by Nick Koch for a 91 5s-fe to 92 usdm 3vz-fe (jdm 3vz is the exact same thing). This is the best wiring guide I have seen it is 100% complete and works. Finally there is a complete 5s-fe to 3vz-fe wiring guide!
http://walkman5410.webs.com/3vzfe%20to%205sfe%20by%20nkoch.xls
Here is the revised edition of Nick's guide by goddom
https://docs.google.com/leaf?id=0B_dVNqiKyCtDMjBjMzY4NmUtNmZlZS00ZmIyLTk2MTgtZTE0MWQ5MDU4ZTJm&hl=en&authkey=COKVrG8
Here is Paul Wood's guide to wiring in a 3vz-fe into a 3s-ge, this guide has a few errors and is designed for people not in the U.S. as it as a 3s-ge as the base car which never came to the U.S.
There were changes to the wiring guide posted here:
http://forums.twobrutal.com/showthread.php?t=5960&page=18
And here are some good sites you can look up your specific year to double check wiring questions. It has the complete 3vz, 1mz, 5vz, and mr2 wiring harness information:
If you are looking for someone to make you a plug and play harness, I recommend MR220V or DrTweak, both on mr2oc or mr2.com, the prices range from 350-500 for a complete harness conversion.
Ignitor/Coilpack
You need a V6 ignitor which I pulled from the junkyard. There are several ways of where to mount the ignitor, any 10mm bolt hole can be used to mount it, however I think the best place to mount it is on the drivers side strut tower. Here is an example of how Paul Woods mounted Jinja's coilpack/ignitor.
ACIS Vacuum Canister
This is a small black can about 5" tall and 3" wide it has 2 nipples on the top, looks similar to a charcoal canister. In the camry it is located underneath the battery tray. I pulled mine from the junkyard. You can mount this canister anywhere, it uses 2x 10mm bolts, originally I put it on the upper firewall drivers side. Here is a pic I found from ebay:
Maintenance items
Timing Belt, Water Pump, Thermostat, Spark Plugs, Spark Plug Wires, Cap and Rotor, throwout bearing
16100-69455-83 - $87.00 - Water pump assy
13568-69025 - $39.09 - Timing belt
13540-62020 - $32.70 - Tensioner
90916-03075 - $12.86 - Thermostat
90105-10138 - $1.01 - Bolt, flywheel set (x8 = $8.08) for the 3s/V6
90119-08079 - $0.41 - Bolt, pressure plate (x6 = $2.58) for the 3s/V6
31230-20191 - $26.52 - 5s Throwout bearing
19101-62050 - $15.31 - 3vz-fe Cap
19102-62030 - $9.02 - 3vz-fe Rotor
90919-21519 - $136.98 - Spark Plug Wire Set (all 6), you can also buy NGKs for around $60 but the oem wires are higher quality/will last longer. Personally I have had a plug wire fall out of the dizzy with the NGKs, causing my car to run on 5 cyl. Also, all spark plug wires should have the year they were made stamped on them somewhere if you want to see how old the wires are.
I would highly recommend buying all of these parts from Toyota, Aaron at Lithia Toyota, 1stToyotParts.com and Partznet.com are good places to buy OEM Toyota parts.
Fuel pump
Your NA fuel pump will work fine, however if your car has lots of miles I would consider replacing this with either a Walbro or a used Supra fuel pump. An MR2 turbo pump is another cost effective option. It is alot easier to change the fuel pump with the engine out of the car so now would be a good time to do it.
Tachometer
The easiest way to get your tach to work is to use your mr2 gauge cluster and swap the circuit board on the back of the tach face with a V6 circuit board. I pulled a Camry gauge cluster from the junkyard, removed the tach and removed the board behind the tach. It is held in by 4 small metal prongs which you just pry off with a small flathead. Here is a pic comparing the 4 cyl Celica tach board to the V6 3vz-fe circuit tach board. This is just a pic so you know what I'm talking about.
Another pic from Glease, showing the back:
Intake
I chose to use a 3" K&N Cone Filter and an ebay AFM adapter. The stock camry airbox will work and does fit into the mr2 engine bay, but I'd recommend just getting a cone filter. You can also put a velocity stack on it to help flow. If you can't find a V6 afm adapter, one for the 3s-gte will fit perfectly and there are tons available. I eventually used a 6" to 3" velocity stack from blox and a 6" K&N filter.
Actually doing the swap

Acquire Motor and do all maintenance items while motor is out of the car, especially the spark plugs and wires as doing them while the motor is in the car is very difficult.
Paint valve covers, intake manifold, heat shields, whatever else you want.
Drop old motor, there are lots of write-ups but overall my best advice is that if anything on the motor gets in the way, remove it. I ended up taking off a lot of misc bits, like the O2 sensor and the motor dropped down very easily. I remove MR2 motors by jacking the car and putting my hoist around the motor, lowering it down underneath the car onto a furinture dolley. Then I attach the engine hoist around the 2 side mounts and jack up the entire rear of the car and roll the engine out either sideways through the wheel well or diagonally out the back.
Install clutch, take S-54 off of the 5s-fe and install it on V6.
Install V6 into mr2, put the motor mount bolts hand tight and only torque them down after all four bolts are in. I put the side ones in first, then front/rear.
Install ignitor, ecu, acis canister, see each section to where I recommend mounting each device.
Install harness, heater hoses, coolant lines, fuel lines
Pro-Tip: Make sure you install the cam gears correctly, ie: not flipped opposite or else your timing belt or cover will rub. Here is a picture by Glease of how it should look. Notice the lip of the cam gears and how big it is.
If you are pulling a 3vz-fe from a camry, here is a step by step guide of how to remove the engine from twobrutal.
Coolant lines
There are two coolant lines in the V6, similar to the 5s. You can use the old 5s coolant pipes and random hoses, or you can buy a universal flexible coolant hose from summit racing and not have to worry about cutting/finding hoses. The part # is SUM-390148-R (another option is Summit part number SUM-390048 doesn't have the fitting covers and only comes in stainless steel), at least 3 feet (when I tried 3 feet it didn't work, so I bought the 48" hose and that worked though I probably could have cut off about 3") is good for the main coolant hose, and 1 foot for the other one. I chose this option because it cleaned up the engine bay alot and allowed me to hide most of the coolant line. Important Note: 3vz and 1mz coolant lines are OPPOSITE, ie: they switch where each coolant line goes.
Here is how OohMatron routed his line (which is identical to mine) and is the best way imo to route them. The source is this link:
http://forums.twobrutal.com/showthread.php?t=5685&page=18
Step 1.)
Step 2.)
Step 3.)
On the MR2 there are two coolant pipes running underneath the car. One is more towards the driver side and the other is closer to the passenger side. Basically the long bigger hose on the top that goes from the radiator cap goes to the coolant pipe that is closer to the driver's side, while the smaller coolant line that pops out right under the alternator goes to the coolant pipe that is closer to the passenger side.
Heater hoses
I was able to use the 5s hoses and V6 hoses, using barbs to join them together. If you want you can just buy 2 universal heater hoses 5/8" about 1.5 feet and bend/cut it to fit.
Here is an example of how you could easily use universal heater hoses. There are two heater hoses.
Here is the toyota diagram of how coolant is routed in the 3vz-fe
Fuel line
You can make a fuel line by using the 5s fuel line from the fuel filter and putting a 3/8" brass barb and sticking the V6 fuel line on the other side. I used the auto-zone 3/8" plastic barb with clamps on each end and my fuel line ended up popping out on me. If you must use a barb, use the brass barb from lowes or home depot as it is much better. I would recommend getting a 2 ft stainless steel fuel line from a local car performance shop which is what I ended up doing. You can see a picture of my fuel line in the throttle body bypass mod section.
Here is a pic of the heater/fuel line locations on the motor:
Here are the specific fuel line locations:
Here is how I made my 3vz-fe fuel line the correct way (without barbs or hose clamps)
First, the end that goes into the fuel filter is easy, you need:
A banjo bolt and a straight hose fitting, but in hindsight it would of been easier to use a 90 degree fitting
Banjo bolt
Part # I couldn't find the box
Fitting Size 1: 12x1.25
Fitting Size 2: -6 AN
Then a -6 AN female end to connect the above piece to your fuel line. If you want to use a 90 degree, it is listed further below.
Part # RUS-610020
Cost: $5.75
Here is a pic of mine, I used a banjo bolt with a female straight end instead of the 90 degree, you can see why the straight adapter+straight female end would be cleaner and cost less.
Next, for the end that goes into the fuel rail you need:
Banjo bolt 12x1.0 to -6 AN
Part # RUS-640920
Cost: $17.95
Make sure the above part is the banjo bolt for WITH fuel pressure dampner.
Then a 90 degree bend which is:
Part # RUS-613160
Cost $16.95
The actual fuel line itself:
Part # RUS-632050
Hose Size -6 AN
Hose Length (ft) 3 ft.
Cost: $16.95
Total Cost: $65.55
To install the fuel line you need to remove this bracket pictured here, there is one 12mm bolt right ontop of the water neck holding it in place.
The bracket looks like this when removed:
Then you need to use an adjustable wrench (or don't be lazy and find the size) and break the end of the fuel pressure damper, here is a picture:
Important note: remove one of your fuel lines before hand to depressurize the system to make loosening easier and so fuel doesn't come shooting out!
You will also be removing a connecting metal line for the return line, so I just went to the store and got 2 foot long 1/4" fuel line which goes directly from the rail to the return line.
Pic of the longer return line and the finished end of the fuel rail
Don't forget to use teflon tape on the threads of all your AN fittings! The trick is to getting the hose ends on the hose is to put tape on the outside of the hose and slowly twist the hose end onto the hose making sure to avoid fraying th hose. If you start to fray the hose end you can push the frayed ends back under the fitting with a small flathead.
Vacuum Lines
Here is a vacuum diagram for a USDM 93 3vz-fe. If you have a jdm engine just cap off the egr ports on the TB, basically if something isn't used then cap it off so you don't have a vacuum leak. I would recommend deleting the charcoal canister, I did it on mine with no ill effects. Just make sure to leave the line coming from your tuel tank vented to the atmosphere or else your gas cap will hiss when you take it off.
Throttle body note
JDM 3vz-fe came with a different throttle body than USDM 3vz-fe. The JDM TBs have a traction control system on it which makes the TB much larger but it still fits (barely clears the fusebox) into the MK2. The traction control system does not work and I do not know how to get it work nor would I want to
Here is a very clean JDM motor with a USDM throttle body from zlzgrom86:
Another shameless plug of my motor showing the JDM TB difference
Here is a picture comparing the JDM 3vz-fe throttle body to a USDM 3vz-fe throttle body,
The JDM TB is longer, and has a second throttle blade which is the ghetto traction system which basically closes the throttle plate for you, any obstacle in the path of the intake to the intake manifold is not good as it hurts air flow.
Important Note: If you use a USDM throttle body your throttle cable will be TOO LONG. You can make a very simple modification to fix this by drilling a U bracket which places your throttle cable back further. Here is what JimKing did:
To the best of my knowledge there is no real difference between the two throttle bodies in terms of performance, JDM has the traction control unit and is bigger, USDM does not and is smaller.
Exhaust
There are no exhausts you can buy pre-made that bolt into your v6 mr2 although it is very easy to use the stock Y-pipe and and use your existing n/a or turbo muffler. As a result, many people make custom exhausts for their mr2. But how to design one and route it? I will answer these questions by showing all the different methods people use to make exhausts for a V6 mr2.
First, the stock camry y-pipe. Here is a diagram from Toyota.
The reason the exhaust is split is so far down the pipe is so that the exhaust gases won't flow backwards or hit each other. However, that abrupt bend which 17410 is pointing is what makes the camry y-pipe poor from a performance point of view. It is an extremely abrupt bend and smooth or free flowing.
Also, there is baffling in the Y-pipe. Probably to further reduce sound. Who knows why but it definitely decreases flow and power.
Here is a picture of the stock camry y-pipe on a 1mz (it is important to note that the rear header locations on the 1mz are slightly different from the 3vz, also the flange is different)
Note: It is impossible to accurately judge an exhaust sound from a video clip this is only to give you a rough idea
Here is my car stock y-pipe, stock na exhaust, which sounded great from 4-7k but under 4k it was so quiet I couldn't hear it at all.
http://s20.photobucket.com/albums/b213/Ku-sama/MR2%20Stuff/MR2%20Meet%205-2-09/?action=view&current=DSCF0458.flv
Here is my car again with a mr2 turbo muffler with a small exhaust leak (skip to 7:10)
http://www.youtube.com/watch?v=pG_MaeSAM6c
This one sounded similar to my n/a exhaust just louder and has a decent growl just cruising around at 2-3k.
Here is a 1mz with a stock turbo muffler
http://www.youtube.com/watch?v=VC3SIp3yzco
So we should design our own y-pipe which is much more effective. There are many options here which I will discuss.
Option 1: Equal Length Y-pipe
This is a Y-pipe which mimics the stock design in that it has the rear bank go towards the front bank then do a 180 backwards to join the front bank. However, the abrupt bend is eliminated and a smooth bend is used instead.
Here is a good example:
Another shot on the car:
Here is Dave Mush's setup, equal length y-pipe into a 3UR-fe resonator into a magnaflow muffler (part #12266)
Here is a video of Dave Mush's exhaust
http://www.youtube.com/watch?v=ZGncL0EhUjA
Here is Jim King's equal length y-pipe very similar
Now why go equal length Y-pipe? Well for one it evens out the exhaust pulses, but the counterpoint to that is that all the pulses merge in the stock headers and the muffler so equal length won't make a difference. I honestly don't know which is argument is right.
Option #2: Unequal Length Y-pipe
This is where the rear bank just goes straight backward and joins the front bank. This setup was used in the 1mz highlander shown here,
And here is Walka's unequal Y-pipe with an aero exhaust muffler
Here is a similar Y-pipe design by someone on Twobrutal
And here is Conor's unequal Y-pipe which actually has the pipe going underneath the crossmember
Rear shot on the car:
The advantage of this design is that it is easier to fit and easier to weld.
Option #3: Dual seperate banks
This is where each header just goes straight back into its own muffler/resonator. FabulousJ made a dual exhaust except his merged into a single X flow muffler and each outlet had a resonator on it.
Sound Clip
http://www.youtube.com/watch?v=GbU3CeRlLvk&feature=related
Now that we have decided on the Y-pipe we have to choose a muffler and/or resonator.
Transverse Muffler (just like stock mr2)
Here are transverse mufflers, ie: mufflers that have a single inlet and dual outlet, exactly like the mr2 stock.
Brand In/Out Length Overall Part # Polished Price
Magnaflow 2.5in./2.25in. 18in. 24in. 12266 14266 $100 SS $137 polished
Magnaflow 2.5in./2.5in. 18in. 24in. 12265 N/A $97 SS
Magnaflow 2.5in./2.5in. 14in. 21in. 12277 14277 $110 SS $131 polished
Dynomax SupTurb 2.5in/2.5in 19in 24in 17739 $60
Flowermaster 80 2.5in/2.5in 15 21 42583 $92
Walker sound fx 28 18232 $44
Dynomax Ultraflo 18 24 17266 $165
Borla 2.5in/2.5in 19
Some notes about these mufflers:
I found it good to search for mufflers for a 82-92 Chevy Camaro V6 has it has the same exhaust setup as a stock mr2.
Some quotes I found interesting from people:
AndyA: I'm running a single in/dual out walker muffler just because it was cheap. No cat and a kinda crappy homemade y-pipe. It's real quiet till about 4000 rpm then it seems to really open up. You should try putting a pair of Supertrapps on it so I can hear what that sounds like.
John Caucasian: I think it depends on the muffler, my flowmaster sounds good but has so much drone that I am going to try something different this winter.
Bill Strong: turbo style muffler uses reflection, 2 or three tubes, redirection and packing to lower sound. It is not as free flowing. I'll draw some images. this is very simplistic. The bottom one flows much better. The turbo mufflers also have those ricey sounds...
Dual Split Mufflers
Many aftermarket mr2 exhausts have the downpipe (or y-pipe for the v6) split into 2 banks each with its own muffler and tip.
Berk Tech:
The Berk Tech exhaust on a 3vz-fe mr2
http://www.youtube.com/watch?v=XAuPoQ58iFU
and
http://www.youtube.com/watch?v=mC3JVC-iecc
There are many other mufflers out there, so I'll just post some sound clips:
Michael4age and his skytune muffler from Europe
http://www.youtube.com/watch?v=pAVYM7Fwx5Y
Foxxystoat with a magnex muffler with stock y pipe and intake
http://www.youtube.com/watch?v=A_PkswoXMx0
Single Muffler
There are so many single mufflers and you could always adapt any mr2 n/a or turbo exhaust to fit with your y-pipe as long as it comes over the crossmember.
Here is a good site to look at mr2 exhausts and see which one you like:
http://www.madpsi.net/MR2Exhaust.htm
Here is a sound clip by Sketch_hs of his single muffler exhaust. Sketch writes that he used the "stock y pipe with restrictor in merge removed, stock turbo cat and then that cheapo can"
http://www.youtube.com/watch?v=kgS71gONw2I
Size of the pipes, pre Y and post merge?
Size of the exhaust pipes is always a big debate in n/a applications
Gouky states, "if we do the numbers for 250HP at the flywheel which is about where i think the 3L V6s are.
intake air is about 370CFM
exhaust air is about 850CFM (using the same assumptions as the 2GR-FE above) (you divide by 2 because 2 banks)
380mph exhaust gases can be acheived in a single 2.16" ID tube. so 2.25" OD would be the minimum size you'd want to use after the merge to avoid restrictions."
I believe that on a 1mz/3vz application 2" pre-merge and 2.5" post merge is ideal. For reference the 2gr-fe comes with 2" stock pre merge and the 1mz/3vz-fe come with 1.75" stock pre-merge.
Strut Tower Bars
I am using the EMSPowered rear strut brace combined with the OEM turbo brace. The rear strut bar barely clears the intake manifold by about 1-2 cms. The ems-powered rear strut brace is a copy of the ebay/cusco one. Jimking reported that his TRD Strut bar did not clear the 1mz intake manifold which is the same height as the 3vz intake manifold. If your strut tower bar does not clear you can flip it around so the bar goes towards the front of the car instead of the rear. A good picture of this is Jinjas SC swap at the end of this write up.
My swap after I finished it: (and before caring what my engine bay looked like)
AFM Mod
Ref: http://forums.twobrutal.com/showthread.php?t=9052
The AFM mod leans out your air fuel ratio a tiny bit. Almost all Toyota motors, and the 3vz-fe in particular run extremely rich from the factory. The way you do this mod is that you cut the silicone glue surrounding the black top ontop of the AFM. This exposes a small cog held in place by a black prong. First, mark a starting point with a black marker on the cog and on the wall of the AFM. Second, loosen the screw holding the prong down, but do not remove the screw. Third, hold the cog with one hand while using a flathead in the other to remove the prong. The cog will naturally want to spin which is why you must hold it. Turn the cog counter clockwise to lean out the A/F ratio, about 5 notches into the cog is a good point. People recommend between 3-7 notches. Put the prong back into place, and tighten the screw. Then use silicon glue to re-glue the top of the afm.
This has been proven to increase hp by 2-5 whp
http://forums.twobrutal.com/showthread.php?t=10644
Advancing Timing
Since the 3vz-fe has a distributor you can manually adjust the ignition timing. By rotating the distributor you can advance or retard timing. Stock timing is 10 deg. If you want to advance it then 15 degrees is the sweet spot, however you should do this on a dyno because you can actually lose horsepower like hot-chili did in the link to all the dynos. He lost power going from 10-15 degrees timing, however keep in mind that he had a 94+ 3vz ecu which I believe already has the timing advanced to optimal levels which is why the 94+ 3vzs are rated at a higher horsepower.
Timing has also been proven to help, but not as much as the afm mod or getting a piggyback to lean out the AFRs.
ACIS Mod
The ACIS stands for Accoustically Controlled Induction System, basically it changes the length of the runners in the intake manifold from short (more torque) over to long (more horsepower) at around 3,900 rpm. ACIS is the updated form of TVIS, and does the same thing. Vacuum pressure from the ACIS canister determined by the VSV controls when the flap opens or closes and changes the runnners from short to long. You can manually turn the flap open/closed by looking on the passenger side of the intake manifold and seeing an actuator pushing a little rod. One way to see the difference between ACIS on or off, can be done by zip tieing the rod open so ACIS is on all the time.
The mod consists of changing when the flap opens or ACIS "activates" to make ACIS active earlier in the rpm by changing the VSV vacuum source from the ACIS tank to the "P" port on the Throttle Body. With a stock or bolt-on na modifications there is no need to do this modification because ACIS actually promotes torque down low and horsepower up top, all this mod does is smooth out the powerband from 3-4k slightly while hurting torque significantly from 2-3k.
The mod is described here:
http://www.toyotanation.com/forum/showthread.php?t=258530&referrerid=35312
Some of the toytanation people also grinded down the flap for slightly better airflow, personally I doubt it makes any difference.
http://www.toyotanation.com/forum/t45066.html
Here is the discussion about the modification with testing
Dyno Test: http://forums.twobrutal.com/showthread.php?t=9052&highlight=ACIS&page=2
Discussion: http://www.mr2.com/forums/mk-2-v6/Toyota-MR2-21256-acis-assistance-please.html
Also note: The Haynes manual is also wrong in its description of how ACIS works.
Personally, I do not feel like the ACIS mod is worth it based on my personal experience, I think the motor does sound a little better though =p
Throttle Body/IACV Coolant Bypass Mod
Coolant flows through the throttle body to prevent the TB flap from icing and freezing closed and it is to help the car warm up faster and decrease emissions. However, coolant is very hot and this coolant flowing the TB is the major reason why your intake manifold and TB are hot to the touch after you drive. Also, air passing through the hot TB will supposedly get heated up and hotter air = less power.
I did the coolant bypass mod and it was free and took 30 minutes. Here is a picture the coolant line I looped, the bottom coolant line location is stock, which originally went into the throttle body, I disconnected it and routed it where it is now pictured, which is where the coolant from the IACV went to.
There is not a huge (if any) power gain from this directly, however it does reduce the heat soak of your intake manifold, and my throttle body is now cool to the touch as opposed to burning hot before. The bypass did not affect my idle or the car in any way so it has no negatives.
More Serious Modifying
After you have done these small modifications, a cone filter, Y-pipe and exhaust there are more modifications you can make to improve NA power, but both require opening up the motor.
Head Porting and Polishing
This is the single biggest mod you can do for power on the 3vz-fe, as the heads have lots of extra room and can be opened significantly to improve airflow. People doing this mod have seen a 25-30 fly hp increase. 4v6 has done lots of research about head porting and where to remove material.
Cams
I have not heard a lot about cams in a 3vz-fe, nor seen any dynos so I will not comment here, but in na motor, cams are usually the next step. Here is a post I found while searching for cam information:
"Toyota stock cams are crap across the board. You can get them reground to better profiles with more lift. The later 1mz cams are not as bad as the vast majority of Toyota's cams are. (Still the same pissy .310 & .300 lift, but atleast they get 244* & 236* of duration). Most of the time, there is no penalty at 2750-3000rpm on the v6's going from stock cams, to more aggressive 268-272* grinds. Obviously... The cam grinder, his aggressiveness & his profile pattern determines your gains."
I am not sure if the later 1mz cams drop right into the 3vz.
Here are the specs of the stock 1mz/3vz cams:
3vz-fe
230 intake
230 exhaust
12 deg overlap
7.85mm intake lift
7.6mm exhaust lift
34mm intake valve
1mz-fe (ES300)
188hp @5200, 203lb/ft @ 4400
200hp @5200, 214lb/ft @ 4400 (same cams!)
228 intake
228 exhaust
6 deg overlap
1mz-fe VVTi
236 intake
236 exhaust
overlap
-2 degrees to 58 degrees
3mz-fe VVTi
240 intake
240 exhaust
overlap
0 degrees to 60 degrees
Piggyback ECU
I have heard that the SMT-6 or SMT-7 is a good piggyback for the 3vz-fe. The gains in having a piggyback is that you can map out your fuel trims and timing, and consequently change your air/fuel to be a more optimum ratio. You can run ported heads on a stock ecu, but once you get cams I would suggest also getting a piggyback as you will be flowing alot more air and the stock ecu will probably run dangerously lean. You may be able to use the afm mod to actually add fuel to compensate. Another good option is the Greddy Emanage Ultimate, which can adjust both fuel and timing and is pretty advanced for a good price (used $100-300). People report having around a 10 whp increase through the rev range and improved throttle response but I have not seen any back to back dynos.
Here is a thread by Toysrme about installing his SMT-6 in a 3vz-fe SMT-6 onto his 3vz-fe into a Camry.
Intake Manifold
Another option to look at but I have not heard anything about, it would have to completely custom and flow bench tested to see any improvement, don't just go making holes bigger.
Supercharger
The TRD Supercharger, a M62 unit, for the 1mz-fe bolt on to the 3vz-fe without any modification, but it does require some massaging to fit into a mr2. However, a bigger fuel pump, bigger injectors, and a way to retain the idle speed controller are all required. There are several 3vz-fe trd supercharged examples on twobrutal.co.uk. There are three modifications you need to do to make the trd supercharger fit in the mr2 chassis. TRD Superchargers are M62 Units (Not M45), and are no longer being produced. Generally they sell for around 3,000 USD on solaraguy.com, toyotanation.com, and ebay.
Cut the strut tower wall ever so slightly so the SC pulley belt will clear.
Here is an example of Paul Woods doing Jinja's 3vz TRD SC Swap:

Paul Woods also had to move the brake booster line around, here is the finished result after the strut tower cutting and brake booster line relocation:

Finally, you need to address the idle speed controller, which Paul Woods did by making a custom bracket to fit the stock 3vz ISC onto the TRD SC. It is the red extension off of the throttle body that has a TRD sticker on it.
Here is a thread on toyotanation about using the trd supercharger on a 3vz-fe but it is camry specific
http://www.toyotanation.com/forum/showthread.php?t=343651
Thanks
I would like the entire MR2 V6 community on mr2oc, mr2.com, twobrutal.co.uk for helping me finish my swap and answering my extremely newb questions. Hopefully this write up can make it so you guys don't have to answer anymore newb questions!
If you have any more questions good places to search are:
http://www.mr2oc.com/forumdisplay.php?f=188
http://www.twobrutal.co.uk/forum/
http://www.mr2.com/forums/mk-2-v6/
Page last modified by Matthew Eddy, on November 20, 2010, at 11:10 PM.